Accredited Chest Pain Program with PCI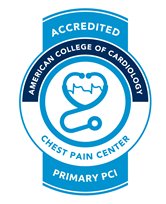 Memorial Medical Center is proud to announce that we have successfully been re-accredited by ACC Accreditation Services, the accrediting arm of the American College of Cardiology, for our Chest Pain with PCI. What does this really mean?
This means that Memorial Medical Center has adopted, adhered to, and achieved best in-class standards of care related to the treatment of cardiovascular disease. Since cardiovascular disease has been the leading cause of death for over a decade, our team found it of the utmost importance to seek alignment with the most respected accrediting agency not only in the nation, but in the world.