Your heart is in the right hands at Memorial Medical Center. From diagnosis through surgery and rehabilitation, Memorial's Heart Program offers a full continuum of care. Our outstanding staff of cardiologists, surgeons, nurses, and specialists perform more than 25,000 total cardiac procedures annually. Using advanced techniques and technology, Memorial's Heart Team collaborates to ensure high-quality care for the hearts of Las Cruces and Southern New Mexico.
Chest Pain Accreditation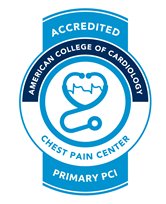 Memorial has received full accreditation as a Chest Pain Center from the Society of Cardiovascular Patient Care. This means that we have demonstrated a high level of expertise in caring for patients who arrive with symptoms of a heart attack. Through the combined efforts of our Heart Team (Emergency Services, Cath Labs, Telemetry, Cardiac Care Unit, Laboratory, Imaging/Radiology, and Engineering/Facilities) we created an exceptional cardiac patient process to earn this accreditation.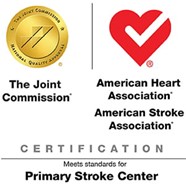 Primary Stroke Center Certification
Memorial Medical Center in August 2021 earned The Joint Commission's Gold Seal of Approval® and the American Stroke Association's Heart-Check mark for Primary Stroke Certification. The process and resulting certification is the latest example of the high quality and consistent care offered at Memorial.
Continuum of Care
Cardiac Rehab is a prescribed cardiac treatment regimen that involves a medical and physical evaluation as well as nutrition and medical education for a patient after a cardiac event. We provide an individualized exercise program that will address the cardiac disease and interventions of the patient. Our goal is to improve their strength and stamina so our patients will be able to return to their usual daily routine. All physical activities are performed using a cardiac monitoring system, with a registered nurse and a nurse aide's supervision.
Anticoagulation Management Services (AMS)

The AMS Clinic, located inside Memorial's Annex, provides anticoagulation medication monitoring and management for patients in Las Cruces and Southern New Mexico who are taking the drug Coumadin (warfarin) and certain other anti-coagulation medications.