Every birth is a special delivery
At Memorial Medical Center, every birth is a special delivery! We provide Las Cruces and Southern New Mexico mothers and families support throughout the pregnancy and birth experience.
Interested in a Prenatal Childbirth Class? Click here for more information.
Our Internationally Board Certified Lactation Consultants offer breastfeeding support to anyone in need of assistance. Please call 575.521.5393 to schedule an appointment. Learn more about our highly skilled team, services and classes to support breastfeeding.

We're Baby-Friendly!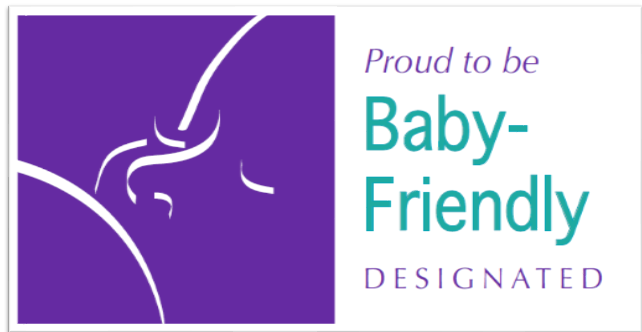 Memorial Medical Center has been designated as a Baby-Friendly Hospital. The Baby-Friendly initiative, by the World Health Organization and UNICEF, encourages and recognizes hospitals and birthing centers that offer a high level of care for breastfeeding mothers and their babies. Memorial completed a 4-step pathway that required specific training in the 10 Steps to Successful Breastfeeding. The 4-step journey creates an environment that is supportive of best practices in maternity care and ideal infant feeding.
For more information on Baby-Friendly visit, babyfriendlyusa.org.
Pregnancy Resources
Childbirth classes are offered in English and are designed to fit your needs. Our Great Beginning Childbirth class is offered once a month. For more information or to register for the next available class, please call 575.521.2233.
Antenatal Care
Antenatal Care is available for maternity patients who are referred by their physician or midwife for evaluation and monitoring of pregnancy-related complications. In this unit, patients are provided with ongoing specialized medical care. If any concern occurs that requires immediate assessment, your care provider can refer you for Antenatal Care.
Arriving at the Hospital in Labor
Where To Go
If you arrive between 6:00 am and 5:00 pm Mon. - Fri., please enter through the main lobby. Between 5:00 pm and 6:00 am or on weekends and holidays please enter through the Emergency Department. There you will find the Reception/Registration area. After a quick registration, you will be escorted to Labor and Delivery for evaluation.
When Your Baby is Born
Our labor and delivery area is equipped and staffed to excel in every stage of your birthing experience. The obstetricians and nurse midwives on our medical staff are highly skilled to care for you throughout your pregnancy and delivery. Our nurses are well-known for their gentle touch and concern using the latest evidence-based information to support you and your family through this special time.
To provide the highest level of care, we have neonatologists in the hospital 24 hours a day in case your baby has any problems. Our post-partum rooms are designed to accommodate your loved one, to provide optimal bonding. We are here to help you make this memorable occasion a joyful one.
Memorial Medical Center is pleased to provide new mothers and their babies with private rooms. Our rooms give mothers and their babies the privacy they need during recovery. We also offer 24 hour rooming-in for one adult family member to stay with the new mother and baby.
We offer a range of services to help with the pain of childbirth. Our anesthesia service is available 24 hours a day for epidural pain relief. We also offer a tub room with expert assistance from midwives and nurses in natural pain management.
After Your Baby is Born
Memorial supports new mothers in breastfeeding and bonding with their babies. Our team is specially trained in breastfeeding support and newborn care. We have lactation consultants on staff to assist new mothers with breastfeeding. Babies are immediately given skin-to-skin contact with mom. Baby and mother will stay together for their entire visit with us.
Babies born at Memorial Medical Center are given newborn hearing screenings and critical heart disease screenings.
Neonatal Intensive Care Unit
Sometimes babies are born too early or with health problems. Memorial offers neonatology services to improve the chance of survival for babies born ill or prematurely and to optimize their developmental outcomes. Click here for more information about or Neonatology Services.