Transcatheter Aortic Valve Replacement
Transcatheter aortic valve replacement (TAVR) is a minimally invasive alternative to open heart surgery for people with symptomatic severe aortic stenosis (a narrowed aortic valve). Doctors insert a catheter in an artery, usually accessed through the groin, and guide it into the heart, implanting a new man-made aortic heart valve inside the diseased valve.

Before a person qualifies for TAVR, their heart care team will review the patient's medical condition, assess the severity of their valve's defect, determine treatment options and inform them of the benefits and risks of these treatments.
---
What is severe aortic stenosis?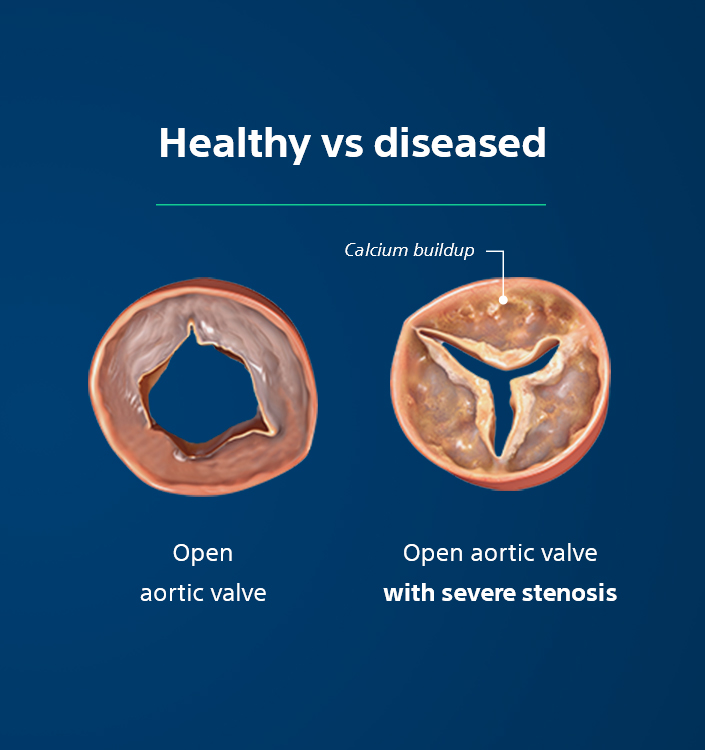 Your aortic valve controls the flow of blood through your heart. The valve is made of three flaps of tissue, called leaflets, that swing open when blood pushes against them. When these leaflets stiffen and lose their flexibility, they no longer fully open or close properly. This results in a narrowing (stenosis) of the valve opening.
This narrowing reduces and restricts blood flow, requiring your heart to work harder. As a result, less oxygen-rich blood flows from your lungs to the brain and the rest of your body.
Severe aortic stenosis is an age-related, progressive disease. It is sometimes caused by a congenital heart defect, rheumatic fever, or radiation therapy. But the most common cause is the gradual buildup of calcium (mineral deposits) on the leaflets of the aortic valve. Your doctor may prescribe medications to ease the symptoms of your severe aortic stenosis. However, if the diseased valve is not replaced, your symptoms will worsen, possibly leading to heart failure and even death.
What are the symptoms of severe aortic stenosis?
In its mildest form, severe aortic stenosis typically doesn't have any symptoms.
But as the condition progresses, and the burden on the heart to pump blood through the narrow valves increases, so does the list of tell-tale signs:
Shortness of breath
Chest pain, pressure, or tightness
Fatigue
Feeling lightheaded or dizzy
Difficulty when exercising or completing day-to-day activities
If you have these symptoms, it's possible your severe aortic stenosis has reached a life-threatening stage.
---
How TAVR Works and More Resources
To access your heart, your doctor will make a small incision in your artery or blood vessel, most often in the groin, and insert a small, hollow tube, called a catheter.
Step 1

The artificial valve is compressed and placed onto the catheter. The catheter and the compressed valve will travel through a large blood vessel until they reach the diseased aortic valve.

Step 2

Your doctor will expand the artificial valve pushing the diseased parts of the aortic valve leaflets out of the way. To guide the positioning and placement of your new valve, your doctor will use special X-ray equipment.

Step 3

Once in place, the new valve will begin to function immediately and restore healthy blood flow. Your doctor will then remove the catheter, close the incision, and transfer you to a recovery area.
---
Need a Cardiologist? Find One Here