Heart Failure Bridge Clinic Accredited Heart Failure Program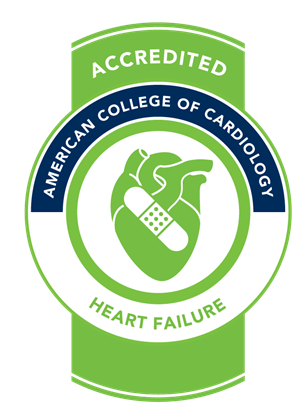 Memorial Medical Center is proud to be the only Heart Failure Accredited Program in the entire southern region of New Mexico! We have been fully accredited by the renowned and peer respected American College of Cardiology.
This means that Memorial Medical Center has adopted, adhered to, and achieved best in-class standards of care related to the treatment of cardiovascular disease. Since cardiovascular disease has been the leading cause of death for over a decade, our team found it of the utmost importance to seek alignment with the most respected accrediting agency not only in the nation, but in the world.
Services in the Heart Failure Bridge Clinic include a follow up call within 24-72 hours and a scheduled visit within 7-14 days after discharge. Our team will:
Review the medical history, learn tools for self-care including exercise, nutrition, guidelines and fluid management techniques
Educate on the early and late signs and symptoms of heart failure exacerbations
Provide tools for self-care including exercise, nutrition, guidelines for fluid management techniques
Educate as to when to come to the clinic for care and when to report directly to the emergency department
Connect individuals to community resources
Our skilled team will communicate the services and education provided in the Heart Failure Bridge Clinic to the individuals Cardiologist or Primary Care Provider for a smooth transition in care.
Memorial Medical Center
Heart Failure Program and Bridge Clinic
2450 S. Telshor Blvd
(2nd floor, West Annex)
Las Cruces, NM 88011
Office 575.556.6257
Fax 575.556.6539