Visiting Hours and Policy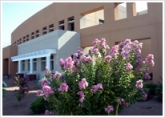 Effective March 1, 2022
We believe that visitors are an important part of our patients' hospital experience, and we are happy to announce that conditions are appropriate for our hospital to fully reopen to visitors.
General Visitor Guidelines:
Visiting is permitted from 10 a.m. - 8 p.m. daily. (unit-specific visitation guidelines apply in the ER, ICU, Maternal/Child Units, Pediatric Units, Behavioral Health and Surgical Services. Please contact the front desk at 575-522-8641 or the respective department with specific questions.)
Visitors to patients are limited to two at a time, as patient care and conditions permit.
Visitors under the age 18 are only allowed in public areas and may not visit patients.
For the health and safety of everyone, all visitors are required to wear masks.
Visitors should not come into the facility with symptoms of communicable illness.
Please call our main line at 575-522-8641 with questions.
*Exceptions to guidelines may be made at the discretion of the nurse or department leader.