Vaccine Hero: Sarah Duenas, PICU/Pediatrics Director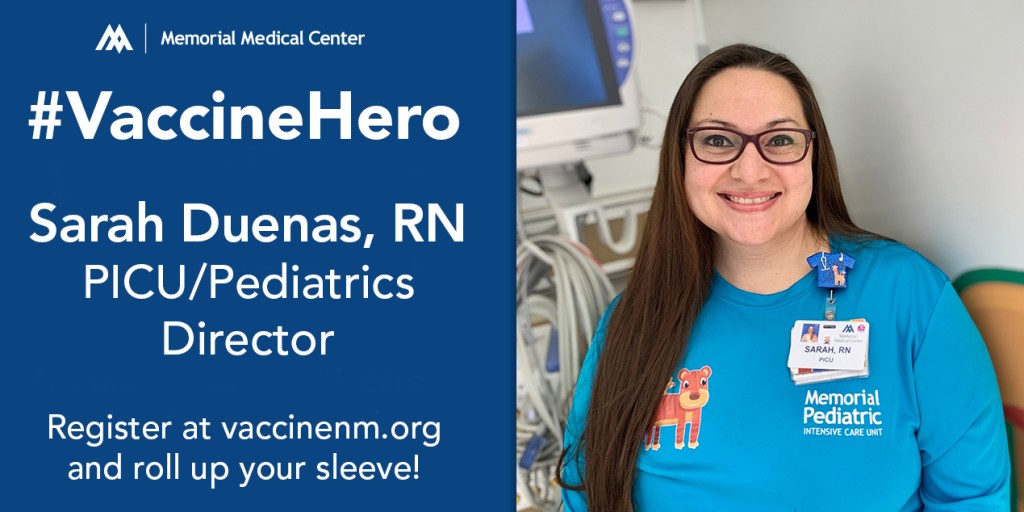 What is your title?
I recently transitioned into the role of Memorial PICU/Pediatrics Director.
How long have you worked here at Memorial Medical Center?
I started working at Memorial in 2017 in the PICU/Pediatrics Department.
Why did you decide to get vaccinated against COVID-19?
I chose to get vaccinated to protect my children and patients. I also wanted to be part of a global movement to end this pandemic.
What would you say to someone who is unsure about receiving the vaccine?
I would first ask the person why they are unsure and hesitant to get the vaccine, and then discuss the myths or fears related to their perception. I would discuss the safety and efficacy of the vaccine.
What are you most looking forward to doing again now that you are vaccinated?
I am looking forward to traveling, family gatherings, and celebrations!
How would you describe your role's responsibilities?
As the Memorial PICU/Pediatrics Director, I am responsible for the safety and quality of pediatric patients, nurse training and education, growth & outreach, and communication between all components of the hospital working together.
What are some of your interests outside of work?
During the pandemic, I took up gardening at home, and my green-thumb is still a work-in-progress! I am looking forward to traveling again!
What is your favorite part about working for Memorial Medical Center?
My favorite part about working at Memorial is the culture and teamwork. I consider the PICU/Pediatrics unit my family. Everyone within the organization is willing and available to lend a helping hand!
Read All Posts