Students and Contract Affiliates

We are resuming most student rotations at the hospital but have made some changes to our requirements and routine process during this time of COVID-19 pandemic. Prior to beginning your experience with us at Memorial Medical, it is important to learn more about how to operate within the hospital in a safe and effective manner.
Beginning Monday, 1/17/2022, MMC will be following the latest NM Department of Health Public Health Order
NM Public Health Order, 12/2/2021: https://cv.nmhealth.org/wp-content/uploads/2021/12/PHO120221.pdf
By Monday, January 17, 2022, healthcare workers across the state will be required to be fully vaccinated for COVID-19 (unless they qualify for an exemption) plus a booster dose of the vaccine (within 4 weeks of becoming eligible for the booster). The purpose of this is to help control the spread of COVID-19 in our communities, protect patients, and protect the state's healthcare workforce. We fully support the Governor's Executive Order.
This vaccine requirement applies to all MMC and LCPP healthcare workers, vendors, contractors, volunteers, and students who enter our many facilities.
What changes for students/onsite clinical instructors?

By Monday, January 17, 2022, all Students/Onsite Clinical Instructors will need to…

Provide records of the COVID-19 vaccine booster (or approved exemption)…

To Employee Health Services @ MMC.

This is already a component of the revised packet updated on 12/30/2021

This includes previously cleared Students/Onsite Clinical Instructors.

There may be rare instances of a qualified exemption from the vaccine. If this should apply to a student/onsite clinical instructor, they will need to…

Wear an N95 respirator while inside of any MMC campus.
Submit the appropriate exemption documentation as detailed by the PHO…
Submit weekly proof of a negative COVID-19 PCR test…

To the Employee Health Services @ MMC.
Incomplete or inaccurate exemption documentation may not be accepted, as defined by the PHO.

This includes previously cleared Students/Onsite Clinical Instructors.
Students & Instructors should use the Main Entrance to enter the building. If your clinical rotations requires you to enter the building outside of these hours, then you will need to arrange to have a chaperone let you into the building via one of the available badge-access locations.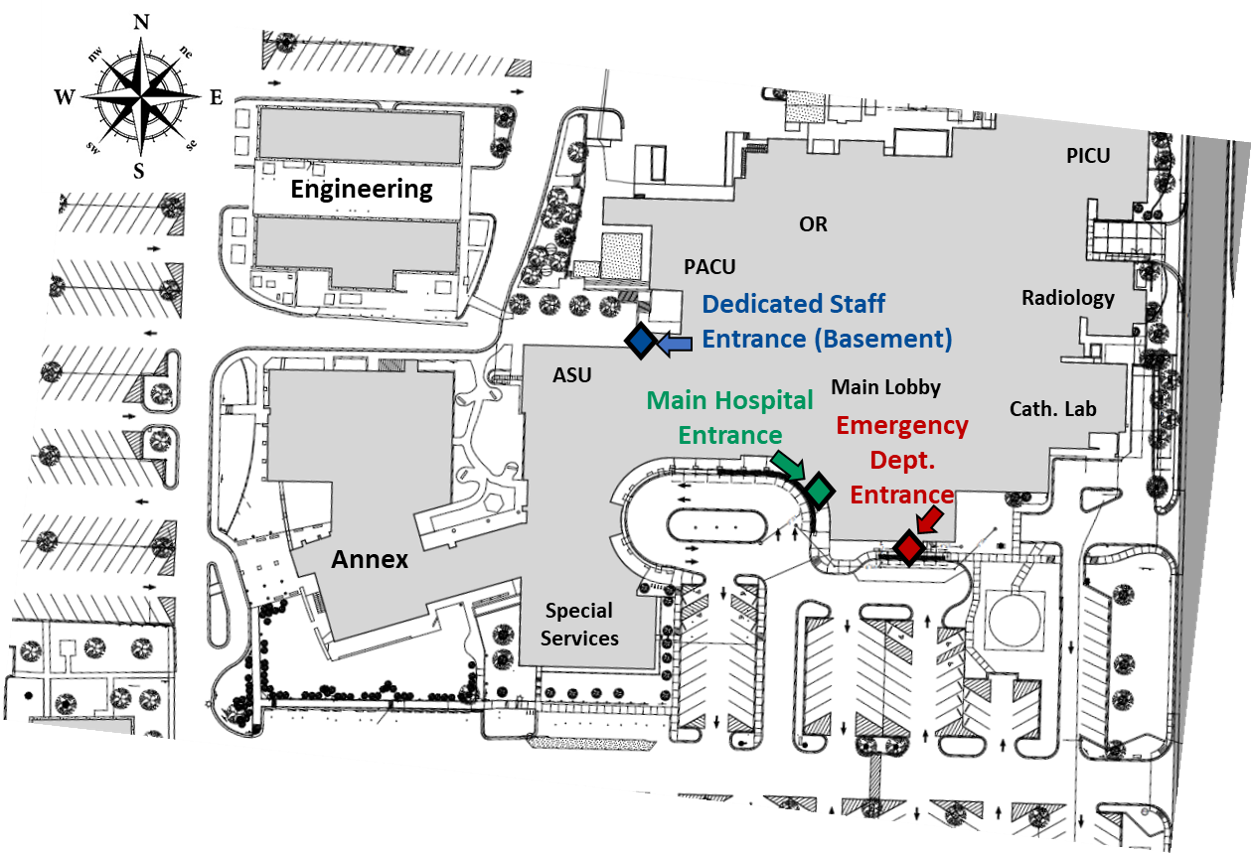 Welcome! If you are unfamiliar with the process for requesting a student rotation at Memorial Medical Center, please review the resources below. We encourage academic institutions and students to save this web link as a way to access the most current documents and procedures while learning at the hospital.
All students and onsite instructors will need to fulfill each requirement outlined in this packet every academic semester. For greater details please review the link above.
Online Orientation
Most Current Version: MMC 2021 Student and Travelers Orientation
Education Login Portal: LifeTalent Center
If you need additional assistance, or for any questions, please contact our:
All students who are unvaccinated against COVID-19 and have an approved exemption will need to wear a respirator (N95) in all areas of MMC and LCPP buildings. All protocols for patients requiring isolation precautions supersede the masking requirements above.
Although you will notice MMC/LCPP staff with stickers on their badges indicating current COVID-19 vaccination, these stickers will not be a requirement for students. Instead, we will add the COVID-19 vaccine as part of the required records within Student Clearance Packets.
For any specific questions about this record, please contact our Employee Health Services: