Feeling The Difference: Jeff Avalos Leaves Debilitating Heartburn Behind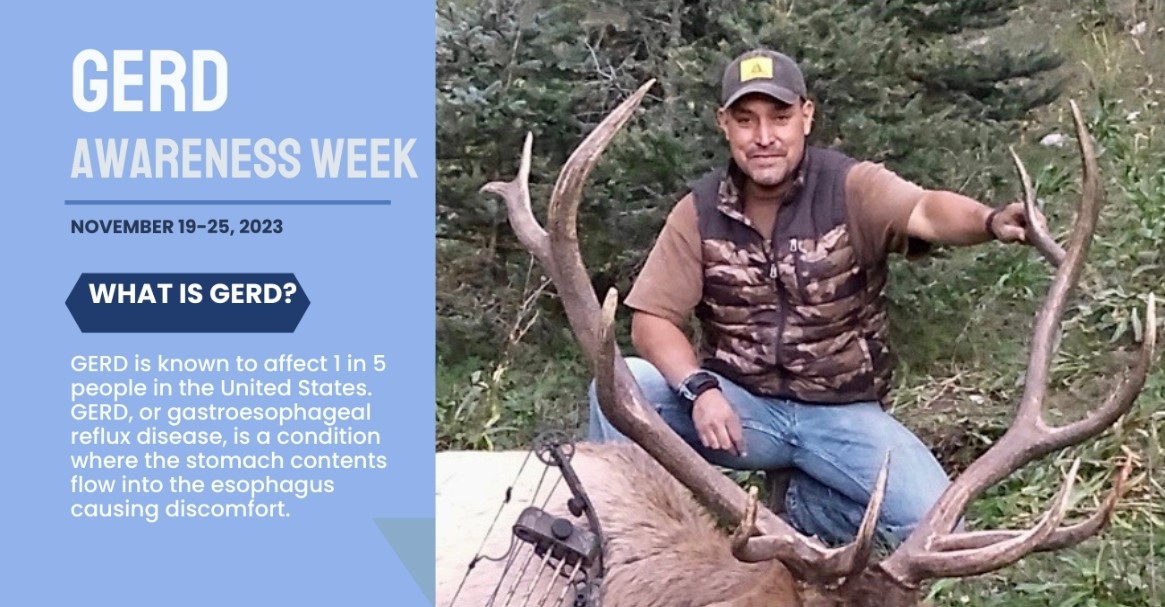 Complete a Digestive Health Assessment
Learn More About GERD and Heartburn
Severe abdominal discomfort. A chronic sore throat. An aching neck. A metallic taste in his mouth. And constant worrying about pills. Count these among the problems that 52-year-old Jeff Avalos doesn't have to deal with anymore.
After several decades of battling intense gastroesophageal reflux disease or GERD, Jeff found lasting solutions at Memorial Heartburn Center after the Las Cruces resident learned that a hiatal hernia was causing his severe heartburn. A hiatal hernia occurs when part of the stomach bulges into the chest.
Bilingual surgeon Fermin Fontan, MD, FACS, FASMBS, earlier this year both robotically repaired the hernia and performed a minimally invasive procedure to install a small device – called the LINX -- to prevent acid reflux from occurring.
"It has been a definite game changer," Jeff said during this year's observance of GERD Awareness Week (November 19-25). "It's changed every aspect of my life, in the way that I don't constantly think about it. I wish I would have done it sooner. It's nice to go places and not worry about what they're having on the menu and have a glass of wine without it killing me the next day."
And although he underwent a procedure, Jeff said surgical technology has come so far that his recovery was relatively quick and pain-free. "I'm a driver at UPS, and I was back fairly fast and didn't feel anything," he said.
Putting the pills, and worries, behind him
Like millions of Americans, proton pump inhibitor (PPI) medications were the easiest answer for Jeff when he started suffering with regular acid reflux in his 20s. But the pills' effect weakened over time, leading to Jeff increasing both the dosage and frequency of Omeprazole (commonly sold as the brand name Prilosec).
"I tried lots of other things besides Omeprazole. I tried everything new, I tried these new gummies that did this and that, and it just didn't help at all," he said. "And this surgery fixed it from day one. You could feel the difference."
Jeff's reliance on pills for his physical feelings also began to take a great toll on him mentally. From inside his UPS truck to packed in his bags on hunting trips, he constantly worried about having his medicine at the ready. "Every day I had to plan for it. If I missed my medicine, I paid for it the next day," he said.
As someone who enjoys being active and enjoying the outdoors, Jeff also grew worried about his long-term health prospects after researching the dangers of PPIs. Long-term, PPIs are associated with a greater risk of infections, certain conditions and vitamin deficiencies. One is an increased risk of bone fractures in the wrist, hip or spine.
LINX provides a lasting fix
Left untreated, GERD can result in serious issues, such as ulcers, scarring, problems swallowing and even cancer. "Getting older, I want to make that I can do whatever I can to make sure I stay around before my esophagus gets damaged or anything like that," Jeff said.
The LINX procedure that Jeff underwent corrects a weak esophageal valve to prevent acid reflux. The LINX device, which looks like a small, stretchy bracelet, is placed around the lower esophagus through small incisions in the abdomen. The magnetic attraction between the beads prevents gastric pressure from pushing open the muscle.
The idea of surgery to correct his GERD admittedly worried Jeff in the beginning, but he said Dr. Fontan and the entire clinic team explained things thoroughly, were always available and helped him make the right decision.
And after enduring hundreds of pills and countless episodes of GERD, Jeff encourages chronic heartburn sufferers to consider seeking a solution at Memorial Heartburn Center.
"It's one of those where either you live by the pharmacy or the drug store and always worry about planning your day around it, or maybe a couple of weeks, max, of discomfort. A few scars, but very small. Nothing that's going to bother anything."
Read All Posts