Memorial Medical Center Begins Cardiac Electrophysiology & Ablations in Southern New Mexico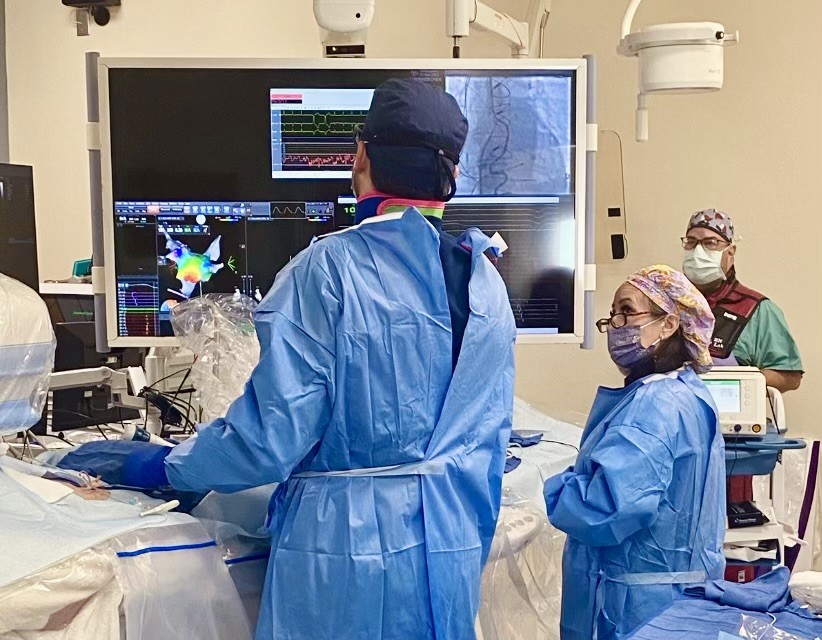 Memorial Medical Center (MMC) is proud to announce the opening of its first cardiac electrophysiology (EP) lab. Heart disease is the leading cause of death for both men and women in the U.S., and EP studies help doctors understand why patients' hearts are beating too fast or too slowly. An irregular heartbeat (arrhythmia) can lead to heart complications, fatigue, congestive heart failure or stroke. An EP study helps clinicians determine the best treatment plan for patients – whether that is medication, a pacemaker, a defibrillator, cardiac ablation, or procedure.
The Memorial Medical Center cardiac electrophysiology lab was made possible through a nearly $1 million ($972,830) investment for equipment and installation at MMC's campus in Las Cruces. "This is truly an exciting time for Memorial, Las Cruces, and Southern New Mexico. The expansion of our heart and vascular service line to include cardiac electrophysiology is part of our commitment to invest in our community and provide high-end cardiovascular services that one only sees in large metropolitan areas. We are proud that our cardiovascular services meet the needs of our growing community by bringing quality care to Las Cruces. We want our community to have access to top quality care by experienced physicians, so our patients do not have to travel out of Las Cruces for care," said John Harris, MMC's Chief Executive Officer.
The EP lab provides diagnostic testing and treatment for patients with irregular heartbeats, including cardiac mapping, catheter ablations, and the insertion of pacemakers and implantable cardioverter defibrillators. The lab addition comes in conjunction with the recruitment of Cardiac Electrophysiologist, Dr. Steven Hamilton, to the medical team. An electrophysiologist is a cardiologist with extensive training in the diagnosis, management and treatment of heart arrhythmias and the electrical activities of the heart, including atrial fibrillation (AFib). The specialty requires two additional years of training beyond what is required for board certification in cardiology. EPs work in partnership with patients' general practitioners and cardiologists to help address AFib, generally when treatment with medications fail or when AFib persists after initial treatment.
AFib is the most common cardiac arrhythmia, currently affecting up to 6 million Americans. Stroke is the most common complication of AFib, and AFib-related strokes are also more frequently fatal and disabling. The most common treatment to reduce stroke risk in patients with AF is blood-thinning medication, such as Warfarin. While very effective at reducing the risk of stroke, blood thinners increase the risk of serious bleeding over time and come with certain requirements and restrictions. AFib is a progressive disease that becomes harder to treat the longer someone has it and increases your risk of stroke five times.
When explaining what electrophysiology is, Dr. Hamilton frequently tells patients that "If you think of your heart as a house, it has both plumbing and electricity. Many people are familiar with the heart's plumbing problems, such as blockages related to high cholesterol causing coronary artery disease and heart attacks. Those conditions are treated by an interventional cardiologist and may sometimes require cardiac catheterization and stenting. The heart's electrical system can have cardiac arrhythmias or abnormal heart rhythms causing it to beat erratically and resulting, most commonly, in a fluttering or quivering heartbeat." But the symptoms can also be more subtle – fatigue, dizziness, shortness of breath. Often, AFib is only detectable during a doctor's physical examination.
EP studies can be performed to test the heart's electrical system and look for any short circuits that could cause arrhythmias. If a short circuit is found, an ablation may be performed to burn out the abnormality. Catheter ablation targets the areas of your heart that generate faulty electrical pulses that cause rapid heartbeat or AFib. By neutralizing and blocking these areas, the pulses are controlled, and a normal heartbeat returns.
Most patients who receive catheter ablation treatment experience a long-term reduction in the number of episodes of arrhythmia and the severity of symptoms. Most patients achieve normal sinus rhythm. The procedure is generally elective and considered in many situations to be as safe as medications, and the decision to perform the procedure is frequently based on patient preference.
Read All Posts