MMC Adds New Diagnostic Tools To Improve the Detection of Breast Cancer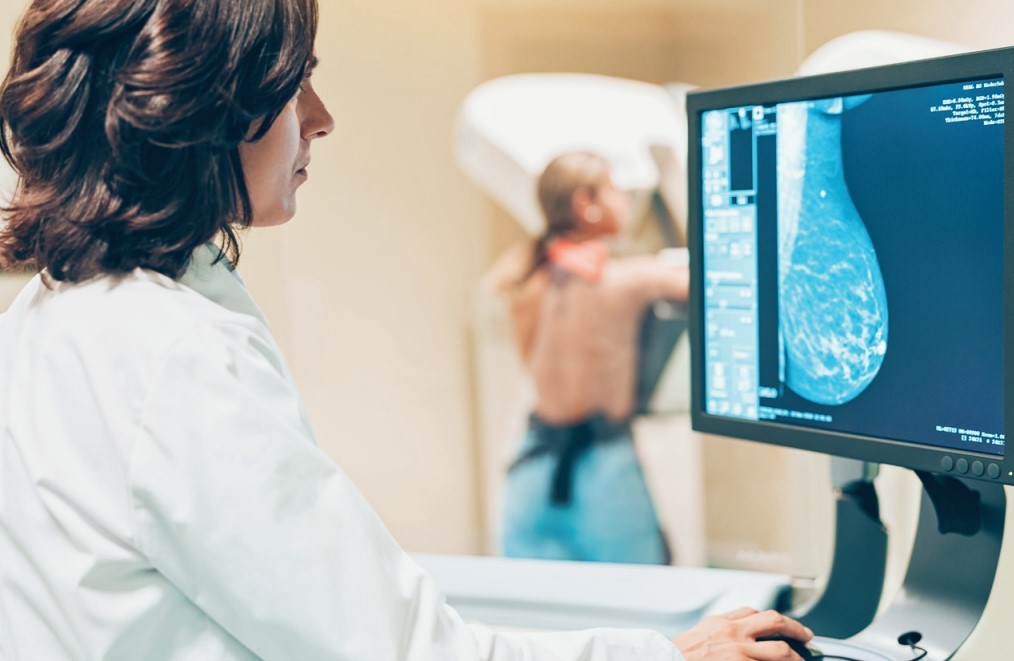 (LAS CRUCES, NM – August 8, 2023) Memorial Medical Center is proud to announce the addition of leading-edge technology to improve the detection of breast cancer and provide advanced diagnostic technology for women with possible abnormal or inconclusive mammogram findings.
Leading the way in advanced imaging, MMC is offering an imaging service designed specifically for women with dense breasts called ABUS (automated breast ultrasound). Memorial is the only facility in Southern New Mexico offering this advanced screening option. The new technology at Memorial's Women's Imaging Center is a non-invasive ultrasound examination, which is supplementary to a mammography exam for asymptomatic women with dense breast tissue.
"Forty percent of women have dense breasts, which can mask the appearance of tumors and limit the performance of mammography," said Rob Shoots, MD, Radiologist at Memorial Medical Center. "This cutting-edge equipment has demonstrated a 35.7 percent improvement in cancer detection in these women, and we are very excited to offer this new technology to our community."
Unlike traditional mammography, ABUS technology is not affected by breast density, and, as a secondary screening examination, it can see through dense breast tissue and has been shown to demonstrate a significant improvement in cancer detection. ABUS does not use radiation and features a 15-minute exam where patients lay on their back and the scanner takes images of all breast tissue.
With ABUS, breast tissue appears white, and cancer appears black on the ultrasound image, which can improve cancer detection in dense tissue.
"This is significant for women who may not even realize they have dense breast tissue and might have had a difficult time finding cancer," Shoots said. "We believe ABUS will become an integral part of our practice for the detection of breast cancer."
The addition of the GE Invenia ABUS 2.0 system as an adjunct to mammography is expected to increase early cancer detection in women with dense breast tissue.
New patients are now being accepted for the exam with a physician's order. The exam is covered by most insurances but may involve a standard copay and deductible.
New Contrast Technology Helps Identify Tumors
Memorial's Women's Imaging Center is known for providing advanced imaging technology such as 3D mammography and stereotactic breast biopsies on site. In addition to the introduction of the ABUS, the installation of a second 3D mammography machine and available weekend hours for mammograms, Memorial now has a novel contrast technique that quickly highlights any significant areas of concern.
GE Healthcare's SenoBright HD contrast-enhanced spectral mammography and Serena Bright contrast-guided biopsy work in tandem with the Senographe Pristina mammography system, which radiologists use to image the breast.
A practitioner will first use a contrast medium to highlight the area of concern. During this exam, called contrast-enhanced spectral mammography (CESM), doctors inject an iodine-based agent into the breast so that X-rays can illuminate vascularity and show clinicians where a potential tumor might lie.
If patients need further examination of a suspicious finding following their CESM exams, they now can get this procedure done in the same or familiar setting with familiar staff and get scheduled quickly with Serena Bright. Serena Bright pairs CESM with advanced software that helps guide a biopsy needle to a precise point within a patient's breast to remove a sample of suspicious tissue.
These advancements in digital imaging were made possible through a nearly half million-dollar investment for equipment, installation, and training at the Women's Imaging Center in Las Cruces.
The American Cancer Society recommends that women receive yearly mammograms beginning at the age of 40. If they have been informed that they have dense breast tissue, they should talk to their doctor about their specific risk and consider additional screening tests that might be appropriate.
For more information about ABUS and breast density, visit us online or contact us at 575-556-6265. To receive an order for an ABUS exam, please contact the provider who ordered your mammogram.
Read All Posts