Memorial Medical Center publishes 2020 Community Benefit Report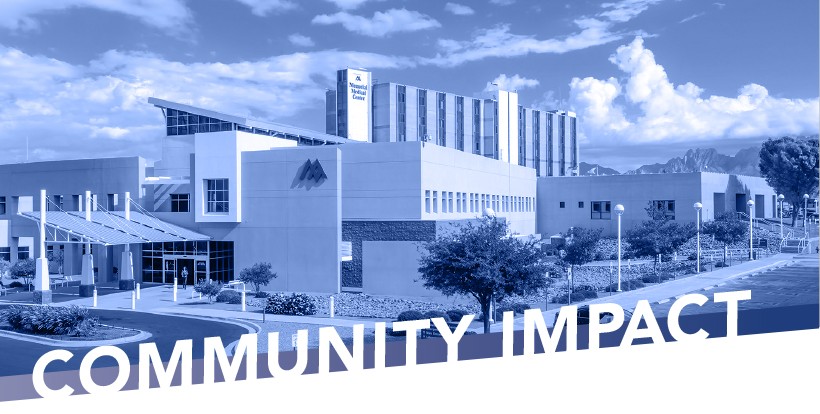 Memorial Medical Center recently published its community benefit report for the 2020 calendar year. The annual report showcases the broad scope of the hospital's contributions to Las Cruces and Southern New Mexico and illustrates the many ways the organization contributes to the physical and economic health of the communities it serves – an investment which became even more essential in a historic year.
"Our mission of Making Communities Healthier has always been central to the role we play in Las Cruces, Dona Ana County and the surrounding area," says John Harris, Chief Executive Officer (CEO) of Memorial Medical Center. "When our region found itself impacted by the COVID-19 pandemic, that mission became even more critical to the well-being of our community. Health and safety mean everything at Memorial, which is why more than 85 percent of our staff and providers are vaccinated against COVID-19. We are also proud to have administered 23,640 COVID-19 vaccine doses to the community with the support of local and state agencies and our national healthcare network.
As part of LifePoint Health, Memorial Medical Center was able to continue our legacy of quality care and community leadership, protect and enhance the health of our neighbors and continue creating places where people – like you – choose to come for care. We achieved this despite the challenges of the past year thanks to the hard work and commitment of our wonderful team of providers, employees and volunteers, and the support of those we serve."
Memorial Medical Center's 2020 community benefit report showcases its continued focus on meeting the region's evolving healthcare needs through welcoming new providers, adding and expanding service lines and continually investing in its facilities and care technology. In 2020 alone, Memorial Medical Center added 121 providers in an array of capacities; and made more than $2.2 million in capital improvements, including robotic surgical technology, equipment replacements, building upgrades and an energy reduction program.
Additionally, a donation of more than $32.7 million in health services to those in need demonstrates the hospital's ongoing commitment to ensuring access to care for everyone, regardless of their ability to pay.
Memorial is also dedicated to creating places where physicians want to practice and employees want to work. In 2020, the hospital distributed more than $108 million in salaries, wages and benefits for its more than 1,400 employees, and provided more than $41,000 in professional development and tuition assistance to help its staff grow professionally and expand their expertise and experience to continue finding newer and better ways to care for patients.
This year's annual report also highlights how Memorial Medical Center's role as a leader in the communities it serves extends far beyond the physical walls of its facilities in tangible and meaningful ways. Last year, the organization paid more than $20 million in local and state taxes, demonstrating its dedication to fiscal responsibility, being a good community partner and supporting the economic health of Southern New Mexico. Additionally, the hospital is proud to be able to continue to support local activities and organizations in myriad ways.
"We are grateful to call Southern New Mexico home and are proud to contribute to its economic and physical well-being." said Harris. "We are thankful for and encouraged by the support our communities have shown us over the course of this historic year. As we look to the future, we are inspired to further enhance how we serve our neighbors today and in the bright days and years ahead."
Memorial Medical Center's complete 2020 community benefit report is available here.
Read All Posts