Memorial Medical Center named Official Healthcare Partner of NM State Aggie Athletics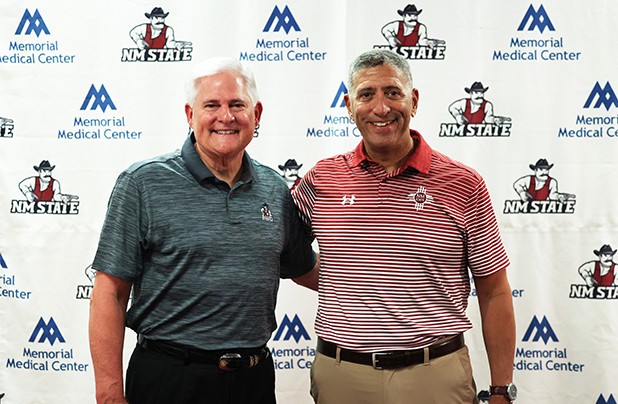 LAS CRUCES, N.M. - The health and well-being of NM State student-athletes is now in the hands of one of the best care centers in the state.

New Mexico State University on Tuesday afternoon announced a long-term partnership with Memorial Medical Center that makes the healthcare hub for Southern New Mexico the Official Healthcare Partner of Aggie Athletics.

"Our highest priority here at NM State is that our student-athletes are taken care of from a health and safety standpoint. Memorial Medical Center certainly has proven that capability to the Aggies, as well as the community, for many decades now," said NM State Director of Athletics Mario Moccia. "It's a natural fit that some of the two longest-serving entities in the city of Las Cruces come together for this historic partnership."

Quickly becoming Southern New Mexico's major referral center, Memorial Medical Center serves the more than 300,000 residents of Las Cruces, Doña Ana County, and the surrounding region. With more than 1,400 employees and a medical staff composed of nearly 400 providers, Memorial offers a broad cross-section of hospital-based and freestanding services.

"We've long been supporters of this university, and we're really glad to formalize this relationship. I feel like these two organizations share the same campus, and I've got 1,400 employees that are major Aggie fans," stated John Harris, Memorial's Chief Executive Officer. "We are about quality and safety in healthcare. Delivering that to the Aggie athletic programs is a privilege for us and one that we take on enthusiastically. We're excited about it and looking forward to the future."

An award-winning medical facility providing quality and safe care to the community for more than seven decades, Memorial Medical Center earned the 2020 LifePoint Health High Five Guiding Principles Award as the top hospital out of the entire 87-hospital LifePoint Health system. The award is based on quality and excellence in healthcare delivery and is the highest honor a LifePoint hospital can receive.

For complete coverage of NM State athletics through the 2021-22 season, visit NMStateSports.com - the official home of Aggie athletics - and follow the Aggies on Facebook (NM State Aggies), Twitter (@NMStateAggies) and Instagram (@NMStateAggies).
Read All Posts