Two extraordinary MMC nurses recognized with DAISY Awards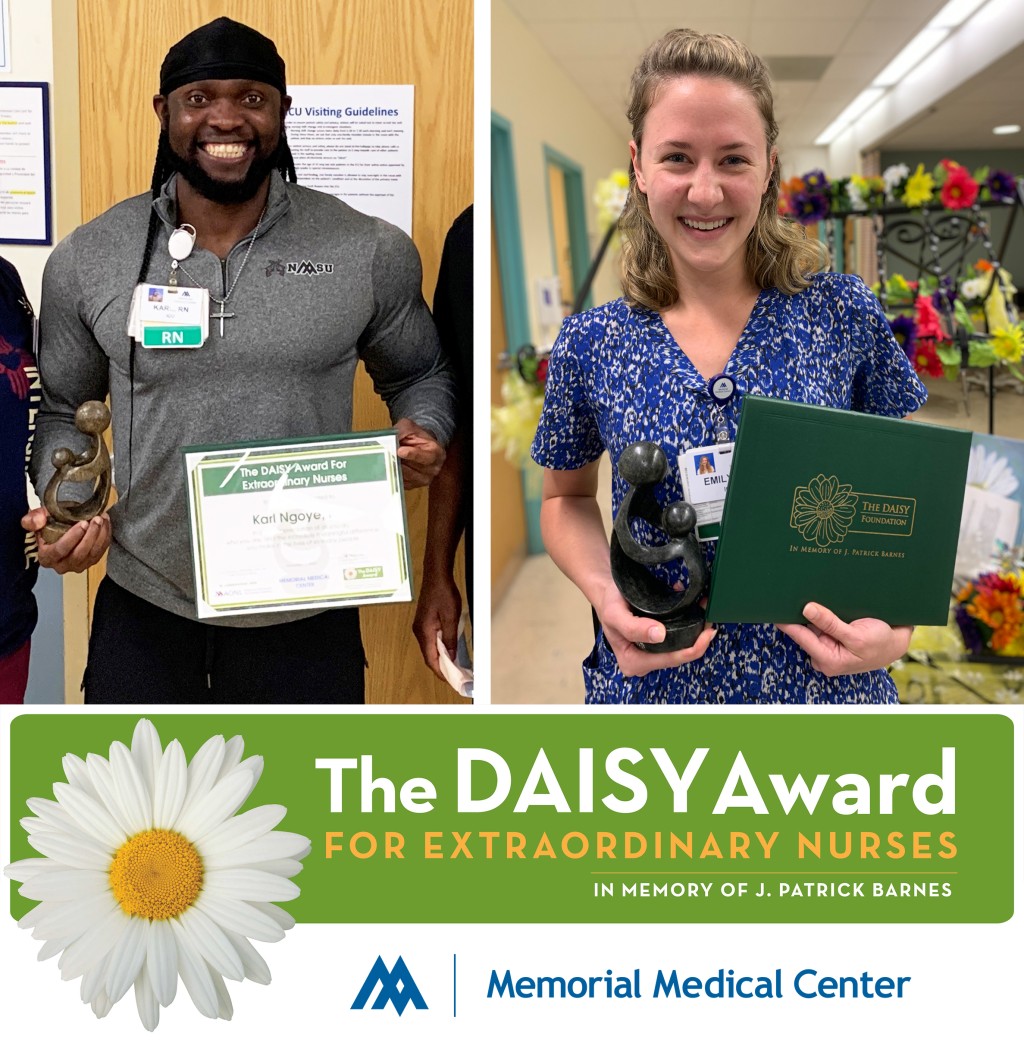 Two exceptional Intensive Care Unit nurses at Memorial Medical Center were honored this week with The DAISY Award for Extraordinary Nurses® for their selfless and live-saving actions. The award is part of the worldwide DAISY Foundation's mission to recognize the extraordinary, compassionate care that nurses provide patients and families every day. The hard work of all the nurses at Memorial is recognized, but the care and compassion displayed by these two award recipients deserves special recognition.
The DAISY Award recipients at Memorial for the third quarter of 2021 are Karl Ngoye and Emily Biad. Ngoye was nominated by a community member who called the ICU in her greatest time of need, while Biad was nominated by the daughter of an ICU patient.
"Words alone cannot explain how grateful I am to Karl for saving my life and giving me another chance to breathe and live again," wrote the nominator. "I don't want to talk about the circumstances that led up to me trying to commit suicide on that evening … I called a few friends that night and no one answered their phone. Frustrated, I popped all the pills and with a knife on my vein, I was ready to take my life away. Suddenly, out of nowhere, I decided I will make one last phone call. I picked up my phone, dialed a random number and Karl, not knowing who I was, answered the phone. The rest is history."
"Every morning when I would wake up, I would cry in gratitude thankful to Karl for saving my life on that dreadful night I was so close to taking it away," she added in her nomination. "The 46 minutes, 16 seconds he stayed talking with me on the phone while on shift saved my life."
"During some of our darkest days, we were greeted by phenomenal nurses who gave top-notch, life-saving care to our mom while showing true compassion and care for our family," a patient's daughter wrote of her experience in Memorial's ICU. "While many on the nursing staff were amazing, Emily was a true angel in scrubs. She took the time to explain the need for each medication and she had the knowledge to detail signs of progress. She had the patience to gracefully tend to all our requests to wash out our mom's mouth, clear her eyes and moisturize her lips."
"My mother is alive today thanks to all the angels that grace the Memorial Medical Center hallways."
The DAISY Foundation is a nonprofit organization established in memory of J. Patrick Barnes by members of his family. Patrick died at the age of 33 in late 1999 from complications of Idiopathic Thrombocytopenic Purpura (ITP), a little known but not uncommon auto-immune disease. (DAISY is an acronym for Diseases Attacking the Immune System.) The care Patrick and his family received from nurses while he was ill inspired this unique means of thanking nurses for making a profound difference in the lives of their patients and patient families.
"We are proud that our participation in the DAISY Program is a powerful way we continue to honor the hard work of our nurses," said Caryn Iverson, Chief Nursing Officer at Memorial Medical Center. "Recognition and celebration mean more now than ever before as nurses tackle the challenges of COVID-19 in addition to their usual roles."
Nurses may be nominated by patients, families and physicians. The DAISY award recipient is then chosen by a committee at Memorial Medical Center. Awards are presented throughout the year at celebrations attended by the Honoree's colleagues, patients and visitors. Each Honoree receives a certificate commending her or him as an "Extraordinary Nurse." The certificate reads: "In deep appreciation of all you do, who you are, and the incredibly meaningful difference you make in the lives of so many people." Honorees also receive a DAISY Award pin and a beautiful and meaningful sculpture called "A Healer's Touch," hand-carved by artists of the Shona Tribe in Zimbabwe.
Would you like to express gratitude to a Memorial Medical Center nurse that went above and beyond? Nurses may be nominated by patients, families and physicians. Click here to nominate a nurse from Memorial for the DAISY Award online.
Read All Posts