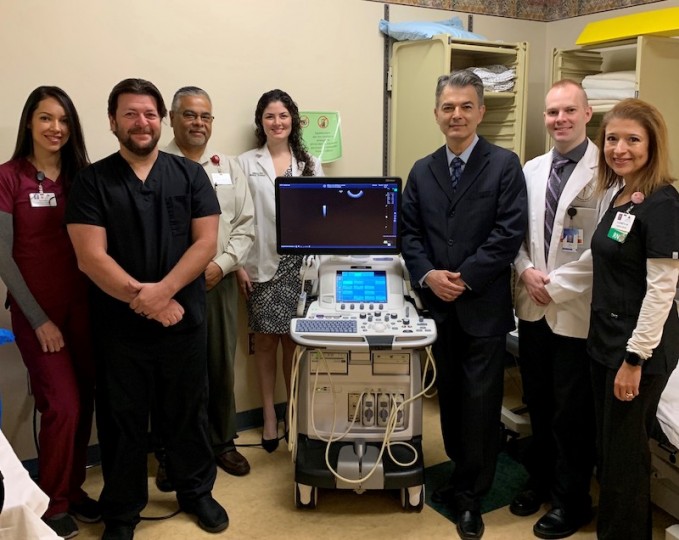 Memorial Medical Performs First Breast Cancer Cryoablation in New Mexico
The first cryoablation of malignant breast cancer in New Mexico was successfully completed on Friday, October 4, 2019, at Memorial Medical Center's HealthPlex. In a joint surgery-radiology procedure by General Surgeon Kamran Kamali, MD, Memorial Chief Radiologist Rob Shoots, MD, and Memorial's radiology team, this accomplishment not only supports Memorial's mission of patient-centered care but also exemplifies the hard work and dedication of Its medical team.
Cryoablation utilizes a minimally invasive, nonsurgical approach to freeze tumors, resulting in the destruction of cancer cells. Cryosurgery has already been used successfully in treating primary and metastatic liver tumors*, prostate cancer*, kidney, ophthalmologic, dermatologic and cervical cancers, as well as benign breast tumors. A proposed benefit of cryoablation is that it induces an inflammatory micro-environment and release of tumor antigens, which may stimulate an immunologic response resulting in lower local or systemic tumor recurrence*.
Dr. Kamali states, "My patient is an elderly female who refused mastectomy or lumpectomy for local control of her breast cancer. This procedure was the best choice to respect the wishes of her medical care. Currently, this procedure is in randomized clinical research trials for breast cancer treatment. This will hopefully become another option for some, but not all, breast cancer patients in the near future."
This procedure was performed under a local anesthetic. The patient was very comfortable throughout the procedure. The cryoablation needle was directed into the breast cancer mass, which was less than 1 cm (smaller than an average marble), using ultrasound guidance. Argon gas was then used to form an ice ball around the needle, freezing the tumor. The freeze/thaw cycle was repeated resulting in cancer cell death.
Dr. Shoots said, "There are national trials underway evaluating this procedure as a treatment for noninvasive breast cancer in the general population, which look extremely promising to date. This may allow us to offer nonsurgical breast cancer treatment to patients in the future."
This was a successful collaboration between Surgery and Radiology that allowed us to offer a new treatment to a patient that would otherwise not have been treatable. John Harris, CEO, Memorial Medical Center said, "Memorial Medical Cancer Center is the most comprehensive cancer center in Southern New Mexico, and this is a clear example of our commitment of bringing high-quality safe care for our cancer patients."
Providing high-quality care means treating the whole person and keeping the patient at the center of everything we do at Memorial Medical Center. This procedure is a true inspiration and an exciting time for medical advancement in treating breast cancer and offering this leading service for our community.
About Memorial Medical Cancer Center – We know that fighting cancer is a serious battle. That's why, over the past two decades, we have assembled an outstanding care team to fight along with you. As the only nationally accredited cancer program in the region, we access the latest research and utilize the most current treatments. Memorial Cancer Center is the only cancer program in Southern New Mexico that provides both Medical Oncology and Hematology and Radiation Oncology services. We are 100% in your corner. To learn more, call 575-521-6727.
About Memorial Medical Center – At Memorial Medical we are committed to providing excellent care to our community. Our facilities provide comprehensive services to residents throughout Southern New Mexico. We strive to offer the latest technology in imaging services, orthopedics, cancer and cardiac care. Our commitment to high-quality care is strong. Our team is committed to providing compassionate care and we bring new and innovative programs to show who matters the most - our communities!
About Dr. Kamran Kamali – Dr. Kamali is a board-certified General Surgeon, specializing in breast disease, minimally invasive intestinal surgery, minimally invasive hernia surgery and Gallbladder surgery. He earned his medical degree at George Washington School of Medicine. He completed his surgical residency at the Waterbury Hospital in Waterbury, Connecticut. Dr. Kamali is the sole proprietor of Las Cruces Surgical Associates located on 2803 Doral Court since 2004. He is also an Associate Professor of Surgery at Burrell College of Osteopathic Medicine. For an appointment, call 575-522-1931.
---
*Ravikumar T S, Kane R, Cady B, Jenkins R, Clouse M, Steele Jr G, "A 5-year study of cryosurgery in the treatment of liver tumors", Arch. Surg. (1991);126: pp. 1,520–1,524.
* Onik G M, Chen J K, Reyes G D, Rubinsky B, Chang Z, Baust J, "Transrectal ultrasound guided percutaneous radical cryosurgical ablation of the prostate", Cancer (1993);72(4): pp. 1,291–1,299.