Memorial Medical Center is committed to the compassionate care of the whole person: body, mind, and spirit. Our Pastoral Care Department provides emotional and spiritual support for patients, their families, and our team members.
The coordinator of Pastoral Care is a full-time bilingual (English/Spanish) Chaplain available Monday through Friday. On-call Pastoral Care support is available 24 hours a day, 7 days a week. Pastoral Care is available for all patients, regardless of faith background. The Memorial Medical Center Chapel is open as a place of peace and reflection at all times to patients, families, and team members.
To contact our Pastoral Care Department, please call 575.521.5579.
Memorial Chapel Worship Services
Services are open to our patients, their family and friends and Memorial employees. Please come and join us as we pray for our patients, their families and our team.
On Sundays at 5 p.m.: Worship with the Rev. Ron Adams
On Tuesdays at 12:15 p.m.: Mass with Father Alejandro Reyes
On Thursdays at 12:15 p.m.: Mass with Father Alejandro Reyes
Meet Pastoral Care Director, Deacon Leonel Briseno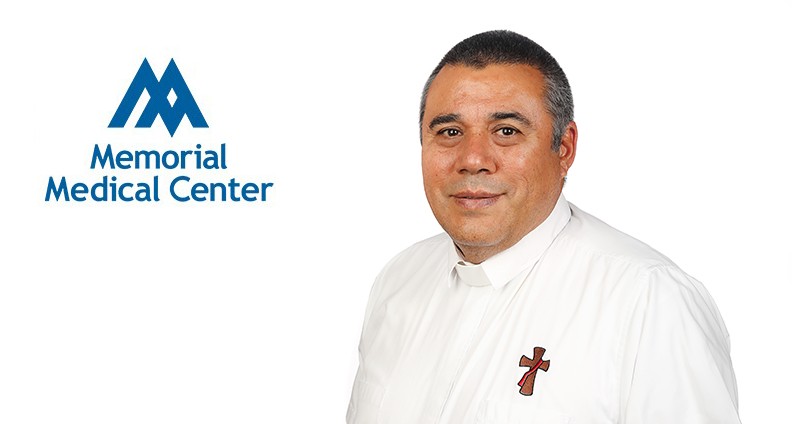 Lonnie, as most people call him, joined the MMC team with 23 years of ministry to children, youth, and their families as well as 14 years as a licensed social worker to our community's most vulnerable populations.
Hoping to build on the outstanding ministry and legacy of the Rev. Dr. Margaret Short, his focus is to strengthen the spiritual and emotional support offered to our patients, their families and team members of Memorial. He hopes to do this by keeping an open door where all are welcome, increasing the number of worship services in our chapel, and increasing the number of community volunteers and clergy who minister to our patients.
A native of Southern New Mexico who is bilingual, Lonnie previously worked in church ministry, a local mental health agency, school social work and most recently a skilled nursing facility. He graduated from New Mexico State University with a Bachelor's in Social Work and received a Master of Science in Religion and Religious Education from Fordham University in Bronx, New York. His most rewarding ministry has been sheltering and serving asylum seekers who have traveled through our area.
His ordination prayer was, "God give me a servant's heart with which to love your people." He has a passion for listening to the sacred and holy stories of those he encounters along the way, who now are our patients, their families, and our team members. He aspires to bring God's love, mercy, compassion, healing, and forgiveness to all he encounters in the halls of Memorial. When not serving at MMC, he enjoys camping, fishing and spending time with his five sons and 11 grandchildren, along with his wife Lucille of 32 years.